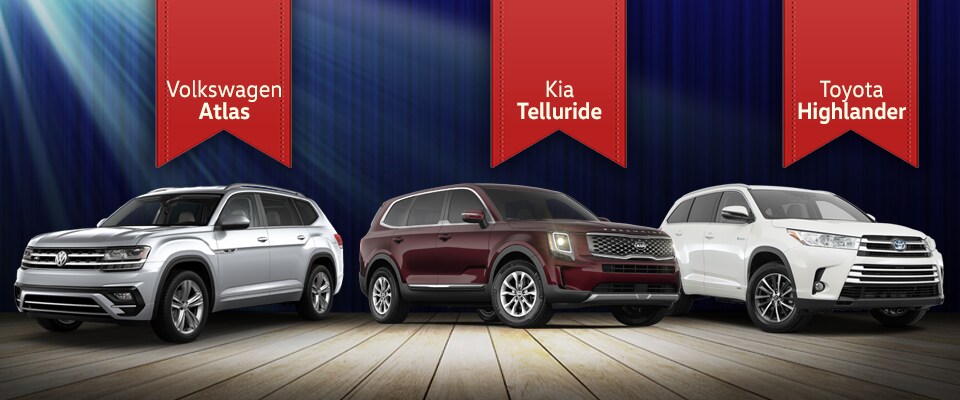 How the Atlas, Telluride & Highlander Compare - Midsize SUV Analysis
The market for high-performing modern SUVs is more competitive than ever. Every year, auto manufacturers are designing new quality vehicles so consumers have plenty of options at fair prices. 
While it's great that car buyers have a broader selection to choose from, it can sometimes feel like information overload, and most of us are hard-pressed to rifle through countless articles with contradicting statistics. That is why we are going to break down three of the best-selling contemporary SUVs on the road today - the Volkswagen Atlas, the Toyota Highlander, and the Kia Telluride.
This lateral comparison is designed to give you real-time insight into each vehicle and provide a recommendation on which modern SUV is ultimately the best of the three.
VW Atlas vs Kia Telluride vs Toyota Highlander
Specifications
2020 Volkswagen Atlas 2.0T S FWD

VS

2020 Kia Telluride LX FWD

2019 Toyota Highlander LE FWD

24 MPG Combined Fuel Economy
Estimated
MPG
23 MPG Combined Fuel Economy
22 MPG Combined Fuel Economy 
2.0L Turbo I4
Engine
Type
3.8L V6
2.7L I4 
6 yr/72,000 mi
Basic Warranty
5 yr/60,000 mi
3 yr/36,000 mi 
198.3″ L x 78.3″ W x 70″ H
Vehicle Dimensions
196.9″ L x 78.3″ W x 69.3″ H
 192.5" L x 75.8" W x 68.1" H
Volkswagen Atlas vs The Competition
DESIGN
One of the nicest parts about the design of the Atlas is that it is large enough to accommodate adult passengers in every row (including the third) yet nimble enough to fit comfortably inside a normal-sized garage. This is one advantage the Atlas holds over its Highlander and Telluride counterparts, respectively. While the Highlander has a bold stance that appears very sharp, it makes for a wider vehicle that fails to match the practicality of the Atlas. Similarly, the Kia Telluride looks like a fully capable three-row SUV and has a rugged yet refined look that closely resembles a luxury-brand SUV. And while appearances can be alluring, the tried-and-tested Atlas is designed to provide all the comforts of a practical SUV in a handsome package.
PERFORMANCE
When it comes to performance, you can't go wrong with any one of the three. The Toyota Highlander LE is equipped with an efficient 2.7-liter 4-cylinder engine through a 6-speed automatic transmission that generates up to 185-horsepower. While some drivers might prefer a little more power, the Highlander is smart on fuel economy yet still powerful enough to be a satisfying drive. Alternatively, the Kia Telluride is outfitted by a more powerful 3.8-liter V6 engine that provides a lot more "giddy up" as well as a healthy 5,000 lbs of towing capacity. If you are looking for a combination between performance and practicality, the Atlas is a perfect bridge. The turbocharged 2.0-liter 4-cylinder engine gets up to 235-horsepower so it stays as efficient as the Highlander while it packs a punch similar to the Telluride.  
TECHNOLOGY
Technology is king when it comes to building a modern vehicle, and that is why any new SUV worth its salt comes with an abundance of appealing features. Kia's Telluride is a brand-new vehicle on the market and it's heavily favored for its list of helpful features such as: 10.25-inch color touch-screen display, driver-talk, and one-touch sliding second-row chairs. Alternatively, the Highlander comes with modern features you might expect like USB ports, climate control, and Bluetooth connectivity. Lastly, the Atlas is also outfitted with all of the modern amenities you could want but also includes driver personalization technology. This system can store up to four different profiles so it can instantly recognize a variety of settings such as seat position; this tech is very handy in a family vehicle.
SAFETY
The safety features of a family vehicle like an SUV is of paramount importance, and that is why the Atlas, Highlander, and Telluride all come with a qualifying safety package. The Atlas earned a 5-star overall rating from the National Highway Traffic Safety Administration (NHTSA) thanks to features like: Intelligent Crash Response System (ICRS), Automatic Post-Collision Braking System, and stability-enhancing systems that help maintain appropriate stopping power during a hard-braking situation. Toyota's Highlander keeps drivers feeling confident with several safety features such as a Blind Spot Monitor with Rear Cross-Traffic Alert (among others) but the only problem is that these are not standard on all trims. Lastly, the Telluride has a great suite of safety features standard and innovative tech like Standard Safe Exit Assist (SEA) provides an added touch of helpfulness.
CONCLUSION
After comparing and contrasting the design, performance, technology, and safety of each vehicle for their respective asking prices, the Volkswagen Atlas is ultimately the best buy. The Atlas provides a nice bridge from a performance perspective so you don't have to compromise on power or efficiency. Additionally, the overall design of the Atlas looks handsome and modern while remaining practical enough to fit into smaller spaces that might give the Highlander or Telluride some trouble. Lastly, the technology that comes standard in the Atlas is not found in the Highlander. And while the Telluride is decked out in great technological features, families are going to like the look of the Atlas' 5-star overall safety rating.
Request Exclusive VW Atlas Offer
* Indicates a required field